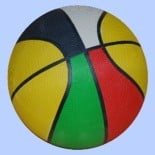 $

10.00 - On Sale
Buy a basketball, soccer ball or volleyball for an orphan! (you will not actually receive the ball, we will ship it to an orphan instead)
Each one of our balls comes from J316 Ministries, J316ministries.com, and has J3:16 printed on it. We will be sending them to children in poor villages and orphanages across America and throughout the world, starting with orphans in Belize and Kenya. The balls will be delivered with tracts that present the gospel message of salvation through Christ alone, using the colors on the ball to tell "The Greatest Story Ever Told." The balls will be shipped with pumps as well.
We are sharing the gospel message, one ball at a time!
We believe that every child deserves the chance to play sports, plus it promotes physical activity, gives them something to do and best of all, shares the hope and love of Christ with those who may have never even heard the name of Jesus!
As part of the program, we partner with the locals as well as send mission teams of our own, to follow-up with (evangelistic) camps and clinics.
May God get all the glory!